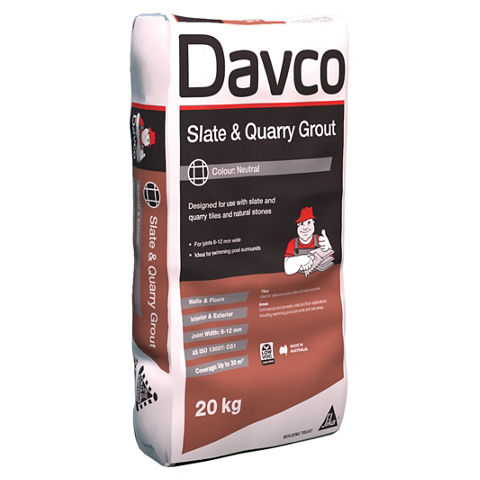 Davco Slate & Quarry Grout
Davco Slate & Quarry Grout is a cementitious sanded grout designed for use with Slate and Quarry tiles and Natural stones for joint 6-12mm wide.
For joints 6-12mm wide
Available in 4 colours
Easy to use and finish
Good colour consistency
Usage
Davco Slate & Quarry Grout is ideal for slate and quarry tiles, terracotta and natural stone. Areas Suitable for interior and exterior applications. Commercial and domestic walls and floor applications including swimming pool surrounds and wet areas.
Advantages
For joints 6-12mm wide
Available in 4 colours
Easy to use and finish
Good colour consistency
Product Details
Product Information
Product Declaration
AS ISO 13007.3 - CG1 Classification
Shelf life
12 Months from date of manufacture if unopened
Storage conditions
Store in dry cool conditions off ground out of direct sunlight
Volatile organic compound (VOC) content
Low VOC - 3g/L (SCAQMD method 304-91)
Application
Application Information
Mixing Ratio
Mixing ratio:
| | |
| --- | --- |
| Application | Mix requirement per 20kg |
| General applications | 3-3.5 Ltrs of clean potable water |
| Areas subjected to considerable movement or improved adhesion requirements | 1.7 Ltrs of Davco 4 in 1 additive mixed with 1.7 Ltrs clean potable water |
| For pool and wet areas | 3-3.5 Ltrs of Davelastic additive instead of water |
Applied Product Ready for Use
| | |
| --- | --- |
| Application | Wait Time |
| Dry Areas | 24 hours |
| Around pools and wet areas | 2 days |
All measurements are taken at 22ºC and 50% relative humidity. Specifications vary according to site conditions and should be taken as a guide only.
Note: Setting times of grout is affected by site conditions, climate and could be faster or slower than specified.
Consumption
Consumption
The coverage of the grout will vary depending upon the texture, size and thickness of the tile and the width of the grout joint. Use the table below as a general guide:
QTY OF GROUT REQUIRED KG/M2 JOINT WIDTH
| | | |
| --- | --- | --- |
| Tile Size | 6mm Joint | 12mm Joint |
| 200x200x10mm | 1.4kg | 2.3kg |
| 240x115x15mm | 2.9kg | 5.8kg |
| 300x300x8mm | 0.8kg | 1.6kg |
| 300x300x10mm | 1.0kg | 2.0kg |
Application steps
EQUIPMENT
Personal protective equipment
Grout float or Squeegee
Grouting sponge
Bucket with clean water
SUBSTRATE PREPARATION
Before commencing grouting, ensure the tile adhesive has set firmly. This usually requires 24 hours with the majority of tile adhesives
Remove any spacer lugs, rake-out any excess adhesive and any loose or foreign material from the grout joints ensuring joints are of uniform depth.
In general, ensure the grout joints are clean and dry.
MIXING
Measure the right amount of clean, potable water (or Davco Davelastic) into a clean bucket.
Slowly add the powder into the water while mixing with a mixing paddle attached to a drill. Do not mix by hand.
Continue to mix for several minutes until a creamy consistency is achieved, free of lumps of powder.
Allow mixture to stand for 5 minutes, remix then use the grout.
The grout may require restirring during its pot life, do not add any additional water.
APPLICATION
Prior to grouting it is advisable to lightly dampen the grout joints, particularly with porous tiles or in warmer conditions. If the tiles are particularly porous it is advisable to prime the joints with Davco 4 in 1 Grout Additive after dampening to seal the edge of the tile.
Using a rubber float or squeegee work the grout into the joints in a diagonal motion making sure that the grout does not just sit on top of the joint i.e. the grout does not bridge the joint.
Remove excess grout from the surface of the tiles with the rubber float or squeegee using a diagonal motion.
Use a damp sponge to clean up the remainder of the grout. Regularly rinsing the sponge out to assist in cleaning.
Finally remove any excess moisture from the grout joints, to avoid discolouration or colour variation problems.
Allow the grout to cure for 24 hours before cleaning the grout haze with a soft dry cloth.
Hard to remove haze can be cleaned with Davco Sanitized® Tile & Grout Cleaner.
Allow to set / dry prior to returning to service
CLEANING OF TOOLS
Clean tools and equipment with water before the grout dries.