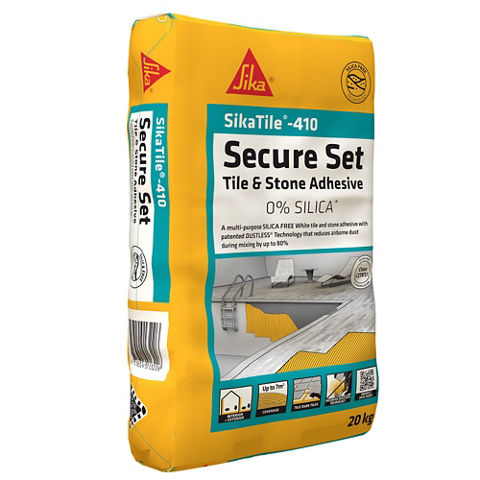 A MULTI-PURPOSE SAND AND SILICA FREE WHITE TILE & STONE ADHESIVE WITH PATENTED DUSTLESS®TECHNOLOGY THAT REDUCES AIRBOURNE DUST DURING MIXING BY UP TO 80%.
SikaTile®-410 Secure Set is a multi-purpose premium sand & Silica free white tile and stone adhesive with patented DUST LESS® Technology that reduces airborne dust during mixing by up to 80% achieving improved air quality, better working conditions, less mess, and faster clean-up.
SikaTile®-410 Secure Set is perfectly designed for most tile and stone applications including submerged applications and over under-floor heating systems.
SikaTile®-410 Secure Set is exceptionally smooth and creamy to spread with high performance non slump capabilities for large format tile and stone applications.
SikaTile®-410 Secure Set is extremely low in VOC, sand free, and contains no respirable crystalline silica making if safer to use then conventional sanded cement based tile adhesives.
Patented DUST LESS® technology
Silica free formulation
AS ISO 13007 - C2TES1 Classification
White adhesive, suitable for light and translucent stone
Suitable for early age screeds (24-hours)
Suitable for early age concrete (7-days)
Exceptionally smooth and creamy to spread
Suitable for under floor heating applications
Non slump adhesive to assist in fixing large format tile and stone and minimising tile lippage
Good early setting for grouting after 24 hours even in cold climates