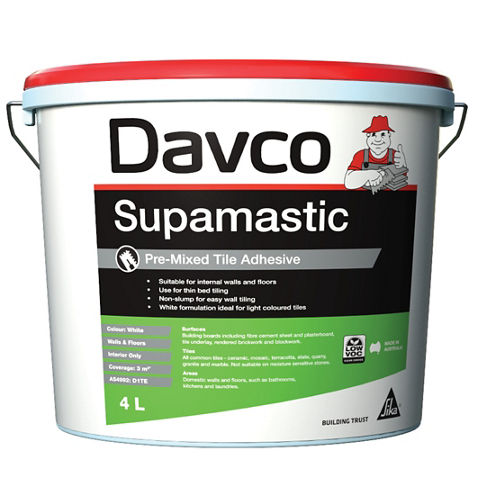 A ready to use premixed thin bed wall tile adhesives for internal use.
Pre-mixed / no wastage
White colour
Non slump
Usage
Davco Supamastic can be used for residential internal thin bed wall applications with porous tiles (>3% absorption) on porous substrates. Davco Supamastic can be used for residential internal floor tiling application with porous backed tiles (>3% absorption) on porous substrates. Please note: If you are uncertain of the porosity of the tiles you are fixing use Davco SMP EVO adhesive. refer the the Davco SMP EVO product data sheet for additional information. Suitable substrates include:
Fibre cement sheet
Plasterboard
Ceramic tile underlay
Rendered blockwork & brickwork
Davco K10 Plus waterproof membrane (drying times will be greatly extended over waterproof membrane, therefore only of fixing of porous backed tiles ≥3%)
Suitable Tile Types include:
Ceramic
Mosaic
Natural stone not sensitive to moisture
Not suitable for use with porcelain tiles greater than 200x200 size. For these applications use Davco SMP EVO adhesive.
Advantages
Pre-mixed / no wastage
White colour
Non slump
Packaging
4Ltr & 15Ltr pails
Product Details
Product Information
Product Declaration
D1TE AS ISO 13007 Classification.
Shelf life
12 Months from date of manufacture.
Storage conditions
Store in dry cool conditions out of direct sunshine.
Application
Application Information
Layer Thickness
Layer thickness shall be no greater than 4mm.
Ambient Air Temperature
Min +5°C to Max 35°C
Substrate Temperature
Min +5°C to Max 35°C
Adjustability Time
45 Minutes.
Applied Product Ready for Use
| | |
| --- | --- |
| Set time before grouting* | 24 hours |
| Set time before dry area service* | 48 hours |
| Set time before wet area service* |  7 days |
All measurements are taken at 22°C & 50% relative humidity. Specifications vary according to site conditions and should be taken as a guide only.
Cool or cold weather will extend drying times of premixed adhesives.
Non porous tiles will greatly extend drying time of adhesive.
Drying time over membranes will be greatly extended.
Consumption
Consumption
A 4 Litre pail will cover approximately 3m2 with a 6mm notch trowel.
A 15 Pail will cover approximately 11m2 with a 6mm notch trowel.
Application steps
EQUIPMENT
Select a trowel with a suitable notch size for the tile size and type as per the following:
Tile Size

Trowel notch size

Back buttering required

Mosaics

4-6mm

No

150x150

6mm

No

200x200

300x300

400x400*

600x300*

8mm

10mm

12mm

12mm

No

No

Yes

Yes
*Tiles larges than 200x200 size must have a porous base (greater than 3%).
APPLICATION
Laying the Tiles
Place the adhesive onto the prepared and primed substrate. Do not apply more adhesive than can be tiles within the open time of the product, usually from a single tile to 1m2.
Hold the notched trowel at an angle of 60° or greater to the substrate.
Spread the adhesive over the required area where tile is to be applied, comb the adhesive in a single direction (not swirls).
Where "back buttering" the tile is required, use the flat side of the notched trowel to apply a thin adhesive layer to the back of the tile (approx 1-2mm thick).
Place the tile into the combed adhesive and press the tile firmly.
Move the tile forward and then back at 90° across the direction of the combed adhesive to flatten the adhesive to leave no voids under the tile. Occasionally life a tile to check the adhesive covers 90-100% of the tile.
Remove any excess adhesive in the joints, and on the face of the tile with a sponge and water while the adhesive is still wet.
Do not allow the adhesive to skin prior to placement of the tiles. If the adhesive skins, remove and replace.
Application shall be in accordance with AS3958.1
Movement joints shall be installed in accordance with applicable standards.
Back buttering the tiles may be required to achieve minimum coverage requirements.
Allow the adhesive to dry prior to grouting.
CLEANING OF TOOLS
Clean tools and equipment with water prior to adhesive drying.