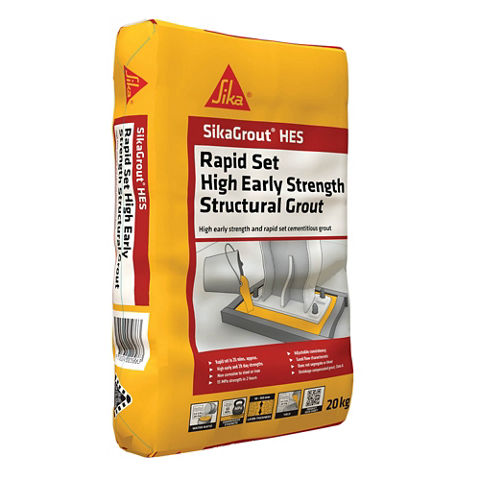 HIGH EARLY STRENGTH AND RAPID SET CEMENTITIOUS GROUT
SikaGrout® HES is a ready mixed, high quality, Class C shrinkage compensated grout that sets rapidly with high early strength gain. SikaGrout® HES is a blend of high alumina cement is based on supplementary cementitious material aggregates and Sika admixtures, enabling it to achieve high strengths in short time frame.
High early strengths (even at low temperatures).
High 28 day strengths.
Good flow characteristic.
Rapid set times.
Adjustable consistency.
Does not segregate or bleed.
High impact and thermal resistance.
Non corrosive to steel or iron.
Usage
SikaGrout® HES is used in a wide range of applications where rapid strength and return to service is required, such as:
Machine base plates
Anchoring
Starter bars
Bridge bearing pads
Pre-cast panel grouting
Cavities, gaps and recesses
Advantages
High early strengths (even at low temperatures).
High 28 day strengths.
Good flow characteristic.
Rapid set times.
Adjustable consistency.
Does not segregate or bleed.
High impact and thermal resistance.
Non corrosive to steel or iron.
Product Details
Sustainability / Certifications / Approvals
APPROVALS / CERTIFICATES
Department of Main Roads Qld (TMR) 2019, Product Index for Bridges and Other Structures, Section 5. Registered and Conforming Products, 5.33 Repair Materials (Concrete) – Grouts
Product Information
Storage conditions
Stored in a dry, unopened original containers protected from direct sunlight and frost.
Maximum grain size
Maximum particle size for pumping ~2.0mm
Density
~2,200 kg/m3 approx. (dependent on water addition rate)
Technical Information
Compressive strength
| | |
| --- | --- |
| 2 hours | ~ 15 MPa |
| 4 hours | ~ 24 MPa |
| 1 day | ~ 30 MPa |
| 28 day | ~ 65 MPa |
Material and curing conditions at 23°C / 50% r.h.
Above results based on 50mm x 50mm cube @ flowable consistency
Electrical resistivity
| | |
| --- | --- |
| 7 days | ~   9,000 Ω.cm |
| 28 days | ~ 17,000 Ω.cm |
| 56 days | ~ 22,000 Ω.cm |
| 90 days | ~ 25,000 Ω.cm |
Application
Application Information
Mixing ratio
Flowable consistency add 3.2 to 3.5 litres of water per 20 kg bag.
Trowellable consistency add 2.5 to 2.8 litres of water per 20kg bag.
Layer thickness
min. 10mm / 150mm @ 23oC
Flowability
| | |
| --- | --- |
| ~ 70 sec (Flow Cone - Flowable consistency) | (AS 1478.2:2005) |
Pot Life
~ 20 minutes at 23 °C
Setting time
| | | |
| --- | --- | --- |
| Temperature | Initial Set | Final Set |
| 23 °C | ~ 25 mins | ~ 30 mins |
Consumption
Yield
| | | |
| --- | --- | --- |
| | Trowellable | Flowable |
| Yield per 20kg bag | ~ 10.3 litres | ~ 10.7 litres |
| Approx.Qty per 1m3 | ~ 97 bags | ~ 94 bags |
Application steps
MIXING
Equipment:
SikaGrout® HES must be mixed using a mechanical grout mixer or a suitable drum mixer. The grout mixer will reduce the mix becoming lumpy or aerated.  Smaller quantities should be mixed in a clean drum using an electric drill. i.e. Festo or similar spiral mixer at a speed of approximately 500RPM. DO NOT MIX BY HAND or MIX PART BAGS.
Method:
Add approx. 70% of water to 20kg pail, slowly add powder while mixing to wet out product fully, add remaining water at a steady rate while continuing to mix. Continue to mix for an additional 3-5 mins. Do not add more water to increase flow if material has stiffened due to time delays on resting, remixing can reactivate. If grout is unworkable discard. 
APPLICATION
SikaGrout® HES can be placed by gravity flow or by pump. It is essential that proper placing is completed without problems. Sufficient labour, grout and equipment must be present to ensure continuous placement.
Gravity Flow:
Mixed grout should be poured one side of the void to avoid air entrapment. Grout is best poured over short distances to ensure this. Use a suitable header box, maintaining the grout head at all times to ensure continuous flow. To facilitate grout compaction and top plate contact, use rodding, tamping or flexible strapping in short strokes while maintaining an adequate head of grout.
Do not vibrate as this will cause segregation. Any adjacent machinery or equipment causing vibration should be shut down until initial set.
Pumping:
When pumping SikaGrout® HES, ensure the pump is suitable for the grout consistency and for the distance and height it is to be pumped. A positive displacement pump is recommended. Place grout by pumping into the farthest corner, filling the space gradually. Ensure that air is not entrapped under the base plate.
Placement Thickness:
Minimum thickness is 10 mm. Maximum thickness in one pass is 150 mm. Any grout pour that exceeds this should be done in stages, or have stone aggregate added to it, to reduce the exothermic heat.
Aggregate Addition:
Coarse aggregate can be added to mixed SikaGrout® HES to achieve a stronger grout, to increase the thickness of grout placed in one pass, or to increase yield.
It is recommended that aggregate size be 10 mm, however as a guide the maximum aggregate size should not be more than 1/5 of the thickness of the section to be cast.
The aggregate shape, and the quantity added, will effect the workability of the mix. Smooth rounded aggregate is found to produce the most workable mix. The recommended maximum aggregate addition rate is 20kg per 20kg bag of SikaGrout® HES. The other option will be to add SikaGrout Aggregate to the mix to increase the thickness of the grout placed.
CURING TREATMENT
Suitable curing methods such as plastic sheet, wet hessian, curing compounds (eg, Sika Film for initial placement then Sika Antisol curing compoundsafter initial set) etc. must be used to protect the freshly applied grout from the drying effects of sun and wind. Curing must commence immediately after placement, and continue for at least 7 days. Curing is vital to the ultimate performance of grout as it allows optimum strength development and ensures tight contact with the baseplate.
CLEANING OF EQUIPMENT
Remove uncured SikaGrout-HES from tools and equipment with water. Hardened material can only be removed mechanically.