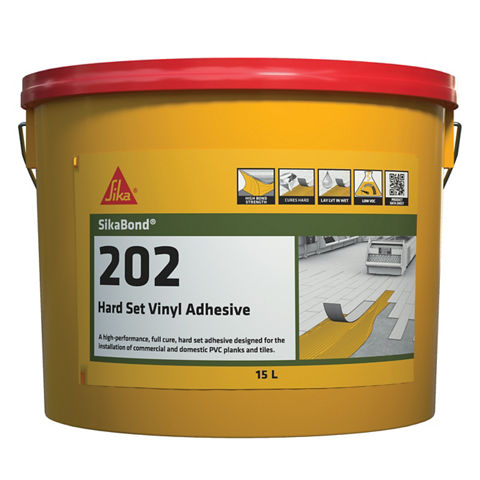 SikaBond®-202 Hard Set Vinyl Adhesive
A low VOC, hard set adhesive designed for domestic and commercial use
SikaBond®-202 Hard Set Vinyl Adhesive is a full cure hard set adhesive with Low VOC emission.
Low VOC
No residual tack once dried
High bond strength
Very high cohesive strength
Wet phase bonding LVP
Usage
SikaBond®-202 Hard Set Vinyl Adhesive is perfect for PVC plank Luxury vinyl tiles / plank PVC Tile Sheet vinyl floor coverings  
Advantages
Low VOC
No residual tack once dried
High bond strength
Very high cohesive strength
Wet phase bonding LVP
Product Details
Product Information
Composition
1-component dispersion
Shelf life
SikaBond®-202 Hard Set Vinyl Adhesive has a shelf life of 12 months from the date of production, if it is stored properly in undamaged, original, sealed packaging, and if the storage conditions are met.
Storage conditions
SikaBond®-202 Hard Set Vinyl Adhesiveshall be stored in dry conditions, protected from direct sunlight and at temperatures between +5 °C and +25 °C.
Application
Application Information
Ambient air temperature
+15 °C to +35 °C
Relative air humidity
40 % to 65 %
Substrate temperature
During laying and until SikaBond®-202 Hard Set Vinyl Adhesive has fully cured, the substrate and ambient temperatures shall be between +15 °C and +35 °C. Where underfloor heating units are installed, the heating units shall be turned on prior to laying the floor covering for a minimum of 7 days to ensure that the moisture condition of the heated subfloor will permit successful laying of the coverings. Heating units shall be turned off 48 hours prior to the commencement of installation. The heating units shall not be turned on again until 48 hours after the laying is completed. 
Substrate moisture content
Moisture content requirement:
85% RH (in-situ probe method: ASTM F2170) or 15 g/m2 per 24 hrs (moisture vapour emission rate surface test ASTM F1869) prior to installation.
pH requirement:
The pH / alkalinity of the concrete must not be higher than 10.

Note: AS 1884-2021 should be followed in conjunction with the guidelines of the soft floor manufacturer.
Curing time
~24 h (final strength after ~72 h)
Skin time / laying Time
<15 minutes
Flash-off time
<15 minutes
Consumption
Consumption
| | | |
| --- | --- | --- |
| Smooth back LVT & LVP | Trowel V1 | ~5m²/litre |
| Highly textured back LVT & LVP | Trowel V2 | ~3m²/litre |
Application steps
SUBSTRATE PREPARATION
The substrate must be clean, dry, sound, absorbent and homogeneous, free from oils, grease, dust and loose or friable particles. Paint, cement laitance, prior adhesives, floor coverings and other poorly adhering contaminants must be removed.

All surfaces must be prepared in accordance to the current Australian Standards AS1884:2021 - Floor coverings - Resilient floor and tiles - Installation practices.

Prime highly absorbent substrate with Sikafloor® -01 Primer prior to application of SikaBond®-202 Hard Set Vinyl Adhesive.
Defective subfloors shall be treated by taking appropriate measures e.g. grinding, milling, vacuuming, priming or self-levelling.
Mastic asphalt and other non-absorbent subfloors as well as rubber floor coverings may require specific self-levelling compound layer thicknesses. For appropriate layer thicknesses refer to the relevant valid data sheets.
Concrete and/or cement screeds must be ground and thoroughly cleaned with an industrial vacuum.
When installing floor covering with underfloor heating, existing measuring points have to be checked regarding the moisture content of the subfloor.
CLEANING OF EQUIPMENT
Clean excess adhesive immediately using a lightly damp cloth. Clean tools immediately after use with warm soapy water. Dried adhesive may be softened using a Sika cleaner such as Sika® Colma Cleaner
IMPORTANT: Do not use solvent cleaner directly on finish floorcovering, as the solvent cleaner can potentially cause damage to the surface.