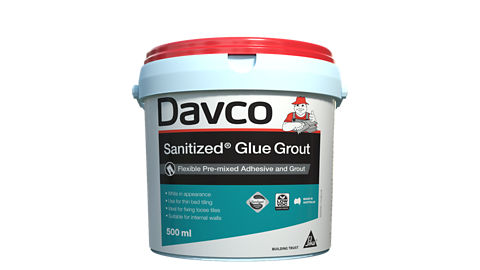 Davco Sanitized Glue Grout
A PREMIXED READY TO USE WALL TILE ADHESIVE AND GROUT
A ready to use, white, pre-mixed, flexible, thin bed, internal wall tile adhesive and grout.
White in appearance
Pre-mixed and ready for use
Dual use - adhesive and a grout
Ideal for fixing popped / litted tiles
No wastage
Usage
Surfaces Most common substrates
cement renders
rendered brickwork and blockwork
plasterboard
fibre-cement wall sheets.
Tiles
Ideal for thin bed fixing of most types of porous backed ceramic tiles.
Areas
Suitable for interior applications.
Domestic walls including bathrooms, kitchens and laundries
Advantages
White in appearance
Pre-mixed and ready for use
Dual use - adhesive and a grout
Ideal for fixing popped / litted tiles
No wastage
Product Details
Product Information
Shelf life
12 months from date of manufacture.
Storage conditions
Store off ground in cool conditions out of direct sunlight.
Do not allow to freeze
Volatile organic compound (VOC) content
Low VOC - Specification for V2 IEQ-13, V1.1 IEQ-11
Application
Application Information
Adjustability Time
20-30 minutes depending on climate and porosity of substrate and tile.
Applied Product Ready for Use
24 hours 
Dry time is to be used as a guide and will be influenced by climate, substrate and tile porosity.
Consumption
Consumption
500ml tub of Davco Sanitized® Glue Grout covers approximately 0.5m2 (based on a 6mm notch trowel when used as an adhesive)
Application steps
SURFACE PREPARATION
All surfaces must be installed according to manufacturer's instructions and relevant Australian Standard(s) and be structurally sound, dry, clean and free from movement, oil, grease, wax, sealers, curing compounds, release agents and any other loose or contaminating material. Thoroughly clean old surfaces, or new surfaces that have been treated, prior to tiling
Deeply contaminated surfaces must be scabbled / abraded to a clean, sound surface. Expose at least 80% of the original substrate of painted surfaces
Surfaces should be prepared and primed as per the following:
Substrate

Specific requirement

Primer 

Rendered brick / blockwork - wood float finish (rough)

Cured minimum 7 days Sound (not drummy or cracked)

Davco PrimeX or

Davco Ultraprime

Fibre-cement sheet, plasterboard

Correctly and firmly fixed

Davco PrimeX or

Davco Ultraprime

Previously painted surfaces
Sand back to expose 80% of original substrate

Davco PrimeX or

Davco Ultraprime
MIXING
Davco Sanitized Glue Grout t is ready to use straight from pail. No mixing required.
APPLICATION
As an Adhesive
Spread approximately 0.5m² at a time. Press firmly into position before the adhesive skins. Ensure that the tiles are well bedded and that no voids occur under the tiles. Refer to 'directions' table to the left for trowel sizing.
As a Grout
Using a rubber float or squeegee, work the grout paste deep into the joints, making sure the grout is not just sitting on top.
Remove excess grout from the surface of the tiles with the float or squeegee using a diagonal motion to avoid dislodging the embedded grout.
A primary clean-up should be done next by wiping over with a damp cloth or sponge.
Allow product to set before grouting
Allow product to set firmly before return to service
Note: Setting time of adhesive is affected by site conditions, climate and could be faster or slower than specified.
CLEANING OF TOOLS
Clean tools and equipment with water before the adhesive dries.