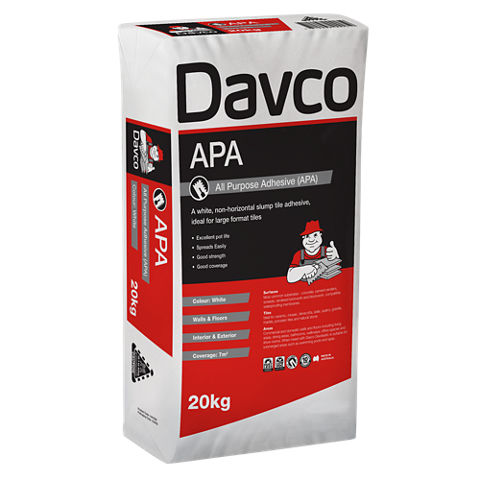 Davco APA All Purpose Adhesive
An All Purpose Adhesive (APA) formulated with non-horizontal slump, excellent for large format tiles.
An economical grade all purpose adhesive for thin-bed tile and stone applications.
Economical
Off white colour
Good bond strength
Low VOC
Multi-purpose
Excellent coverage
Usage
Davco APA All Purpose Adhesive is suitable for thin bed applications internally & externally on both wall and floor surfaces. Suitable substrates include;
Concrete minimum 6 weeks old
Screeds minimum 7 days old
Fibre cement sheet
Compressed cement boards
Rendered block & brickwork
Sika / Davco approved waterproof membranes
Undertile heating (when mixed with Davco Davelastic additive)
Suitable Tile Types include;
Ceramic
Porcelain
Mosaic
Natural stone
Not suitable for translucent tiles and moisture sensitive stone
Advantages
Economical
Off white colour
Good bond strength
Low VOC
Multi-purpose
Excellent coverage
Packaging
20kg bags / 64 bags per pallet.
Product Details
Product Information
Shelf life
12 Months from date of manufacture.
Storage conditions
Store in dry cool conditions, out of direct sunlight off ground.
High humidity will reduce shelf life.
Application
Application Information
Mixing Ratio
5-6 Litres of clean potable water per 20kg bag.
Layer Thickness
Maximum layer thickness shall be no greater than 6mm.
Ambient Air Temperature
Min +5° to Max 35°C
Substrate Temperature
Min +5° to Max 35°C
Adjustability Time
45 Minutes.
Applied Product Ready for Use
| | |
| --- | --- |
| Set time before grouting | 24 hours |
| Set time before dry area service | 24 hours |
| Set time before wet area service | 2 days |
All measurements are taken at 22°C & 50% relative humidity.
Specifications vary according to site conditions and should be taken as a guide only.
Consumption
Consumption
A 20kg bag will cover approximate 6m2 with a 10mm notch trowel.
Application steps
EQUIPMENT
Select a trowel with a suitable notch size for the tile size and type as per the following:
Tile Size

Trowel notch size

Back buttering required

Mosaics

4-6mm

No

150x150

6mm

No

200x200

300x300

400x400 and over

*Tiles with lugs or uneven backs

8mm

10mm

12mm

*As above dependent on size

No

No

Yes

Yes
MIXING
Measure the required amount of clean potable water into a bucket (5 - 5.5 Litres per bag). 
Slowly add the powder into the water while mixing with a mixing paddle attached to a drill (Max 500 RPM). Do not mix by hand.
Continue to mix for 2-3 minutes until a smooth, limp free creamy mixture is achieved. 
Allow the mixture to stand for 5 minutes then re-stir for an additional minute.
For applications over flexible substrates Davco APA All Purpose Adhesive shall be mixed with 1:1 Davelastic additive & water
*Adhesive may need re-stirring during the potlife, do not add more water.
APPLICATION
Laying the Tiles
Place the adhesive onto the prepared and primed substrate. Do not apply more adhesive than can be tiles within the open time of the product, usually from a single tile to 1m2.
Hold the notched trowel at an angle of 60° or greater to the substrate.
Spread the adhesive over the required area where tile is to be applied, comb the adhesive in a single direction (not swirls).
Where "back buttering" the tile is required, use the flat side of the notched trowel to apply a thin adhesive layer to the back of the tile (approx 1-2mm thick).
Place the tile into the combed adhesive and press the tile firmly.
Move the tile forward and then back at 90° across the direction of the combed adhesive to flatten the adhesive to leave no voids under the tile. Occassionally life a tile to check the adhesive covers 90-100% of the tile.
Remove any excess adhesive in the joints, and on the face of the tile with a sponge and water while the adhesive is still wet.
Do not allow the adhesive to skin prior to placement of the tiles. If the adhesive skins, remove and replace.
Application shall be in accordance with AS3958.1
Movement joints shall be installed in accordance with applicable standards.
Back buttering the tiles may be required to achieve minimum coverage requirements.
Allow the adhesive to dry prior to grouting.
CLEANING OF TOOLS
Tools & equipment can be cleaned with water prior to the adhesive drying.