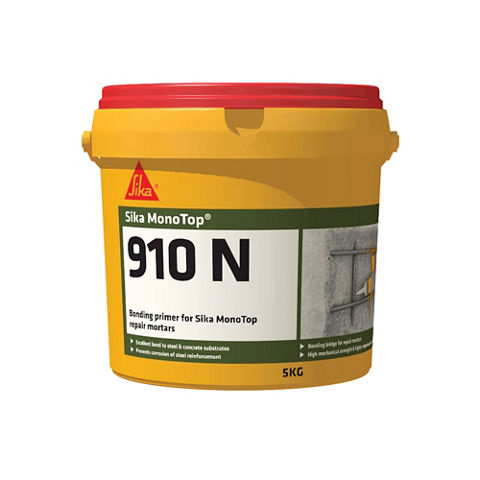 BONDING PRIMER AND REINFORCEMENT CORROSION PROTECTION
Sika® MonoTop®-910 N is a cementitious, polymer modified one-component coating material containing silica fume used as bonding primer and reinforcement corrosion protection for reinforcement. Sika® MonoTop®-910 N meets the requirement of EN 1504-7
CE certified to EN 1504-7
Easy to mix, just add water
User-friendly application
Excellent adhesion to concrete and steel
Good resistance to water and chloride penetration
Good mechanical strengths
Can be brushed on or applied using spray gun
Usage
Suitable for control of anodic areas (Principle 11, method 11.1 of EN 1504-9)
Suitable as a bonding primer on concrete and mortar
Suitable in concrete repair as reinforcement corrosion protection
Advantages
CE certified to EN 1504-7
Easy to mix, just add water
User-friendly application
Excellent adhesion to concrete and steel
Good resistance to water and chloride penetration
Good mechanical strengths
Can be brushed on or applied using spray gun
Packaging
10 kg and 20 kg bags
Application
Application Information
Mixing ratio
For large volume: 2.0 - 2.2 litres of water per 10 kg bag
                                 4.0 - 4.4 litres of water per 20 kg bag
For small volume: 4 part of powder to 1 part of water by volume
Layer thickness
As bonding primer - sufficient to coat the concrete surface in a thin layer filling unevenness, pores and pits
As reinforcement corrosion protection - 2 mm minimum thickness
Ambient air temperature
+5°C minimum; +30°C maximum
Substrate temperature
+5°C minimum; +30°C maximum
Pot Life
~90 to 120 minutes at +20°C
Initial set time
~ 5.5 hours
Final set time
~ 7.5 hours
Waiting time to overcoating
Apply concrete repair wet on wet with bonding primer
Apply concrete repair wet on dry reinforcement corrosion protection
Consumption
Consumption
Bonding Primer:
This depends on the substrate roughness and thickness of layer applied. As a guide, ~1.5 – 2.0 kg of powder per m² per mm thick.
Reinforcement Corrosion Protection:
As a guide, ~2.0 kg of powder per m2 for 1mm layer thickness (in total min 2 layers)
Application steps
MIXING
Sika MonoTop®-910 N can be mixed with a low speed (<500 rpm) electric drill mixer. In small quantity, Sika MonoTop®-910 N can also be mixed by volume in a mixing ratio of 4 part of powder by 1 part of water.
Pour the water in the correct proportion into a suitable mixing container. While stirring slowly, add the powder to the water. Mixed thoroughly to the required consistency (brushable non-dripping consistency).
APPLICATION
As a bonding primer
Apply by brush, roller or suitable spraying equipment to the prepared (pre-wetted) substrate. To achieve good bond, Sika® MonoTop®-910 N must be applied well into the substrate, filling all unevenness.
Subsequent repair mortar must be applied while the bonding primer is still wet.
As reinforcement protection
Apply first layer approx. 1.0 mm thick, using medium hard brush or spray gun to cleaned reinforcement. When first coat is hard to the finger nail, for guidance~4 to 5 hours at 20°C, apply second layer approximately 1.0 mm thick.
CURING TREATMENT
As reinforcement corrosion protection - protect the fresh mortar immediately from premature drying and contamination using an appropriate curing method.
CLEANING OF EQUIPMENT
Clean all tools and application equipment with water immediately after use. Hardened material can only be mechanically removed.